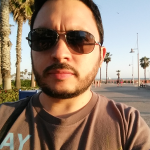 Alejandro Alemán Castilla is an Electronics and Communications Engineer with +15 years of experience in Online Marketing and Digital Media for many industries and governmental sectors such as Mexican Deputies and Senate, PEMEX, CONEICC, ITESM, Microsoft México, Peugeot, L'Oréal, Philip Morris, Sony, Panasonic and Samsung.
Additionally, he holds a Masters Degree in Telecommunications Management and has worked as a researcher at the "Internet Project" and the "Cyberculture and Strategic Communications Research Cathedra", at ITESM. He has also been invited as speaker in courses and congresses about Internet, Online Marketing, Human Centered Design, and Communication for Change Management, for organizations in Mexico and Latin America.
He has studied photography at the Escuela Activa de Fotografía, Gimnasio del Arte and Estudio .357mx focusing on Portrait, Self Portrait, Product, Lighting and Electronic Flash.
Currently he is writing a book.